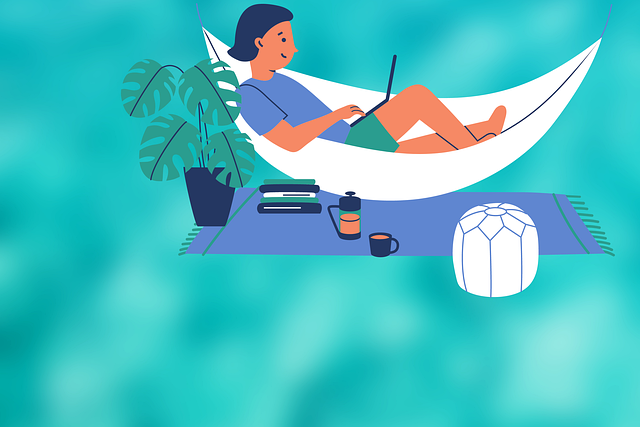 The necessity for setting up your very own office or workspace or work from home at home has grown even more important as a result of Zoom meetings, working remotely, and managing both personal and professional life in one area. The location is the most crucial factor to consider. The best spot to set up your home office is in a spare room if you have one. It's ideal to choose a peaceful area like a hallway, an unoccupied nook, or a foyer.
You require an efficient and dependable internet connection if you work from home. An ergonomic office chair will encourage good posture and help avoid back problems. You must have upload and download speeds of at least 3 Mbps and 10 Mbps, respectively. By using these suggestions, you may make any room in your work from home for you like a CEO.
SET UP YOUR HOME OFFICE
Having a dedicated workplace in your home might help you get into the correct frame of mind.
Working in leisure areas such as the bedroom or sofa might reduce productivity since the brain links them with sleep or relaxation.
Consider installing a privacy divider in your home office. Curtains are a lightweight and generally low-cost way to "close the door" on your office. Traditional floor dividers are available, as is hanging a drape from the ceiling or on a pole. Choose something wild and wacky to liven up your office.
Don't forget to care after your eyes and neck as well. Make sure your display is positioned in the "ideal" location. You'll need to try different positions because everyone's sweet spot is different. To help you do it correctly, consider some of these suggestions:
Dedicated storage choices in your home office can hold files, documents, stationery, and other items. When there are items you don't want to risk losing, invest in lockable files and storage cabinets. A hutch, towering bookcases, or even floating shelves might help you make the most of your storage space.
STICK TO YOUR REGULAR WORK HOURS.
Start work and end on time to establish the boundary between home and work life.
Take breaks too when it indeed breaks time. Grab a snack, stretch, and enjoy the brief time of doing nothing.
Many of you are working longer hours or just do not expect that you will leave the house on time. Determine when you want to leave and establish a psychological commitment to that moment. It can also assist to join a class or social club that meets at a defined hour since this will provide you with additional motivation to organize your day.
Say you have to leave at 3 p.m. every day, and make a promise to yourself that you will leave on time. Inform your coworkers that you must depart by 3 p.m. while you discuss plans and duties throughout the day. You will prevent needless last-minute assignments or meetings if you offer as much warning as possible for any requests or meetings.
After deciding when to leave for the day, it's crucial to finish off any last-minute tasks and be ready for tomorrow. Do not let anything get in the way while you spend the final few minutes meeting with an employer or a customer. This is a priority time slot that cannot be changed.
Align Work Schedules With your Family.
Suddenly working from home might be a big adjustment.
Coordinate with your partner, children, or roommate on work schedules and designate chores equally.
Create your schedule around the priorities that are most important to you and your family. This makes sure that you can be generally happy with the parenting and scheduling decisions you make.
It's crucial to organize and plan your life to keep all of your obligations in focus and proper perspective. Whatever method you use to create your schedule, be sure the chores are in line with your objectives.
Spending time and energy on your own business won't help you if it prevents you from achieving the life balance you desire. With increased confidence, balance, and clarity, Empowering Mums are on a mission to empower one million mothers and mumpreneurs just like you. Creating and adhering to a values-driven timetable is a part of it.