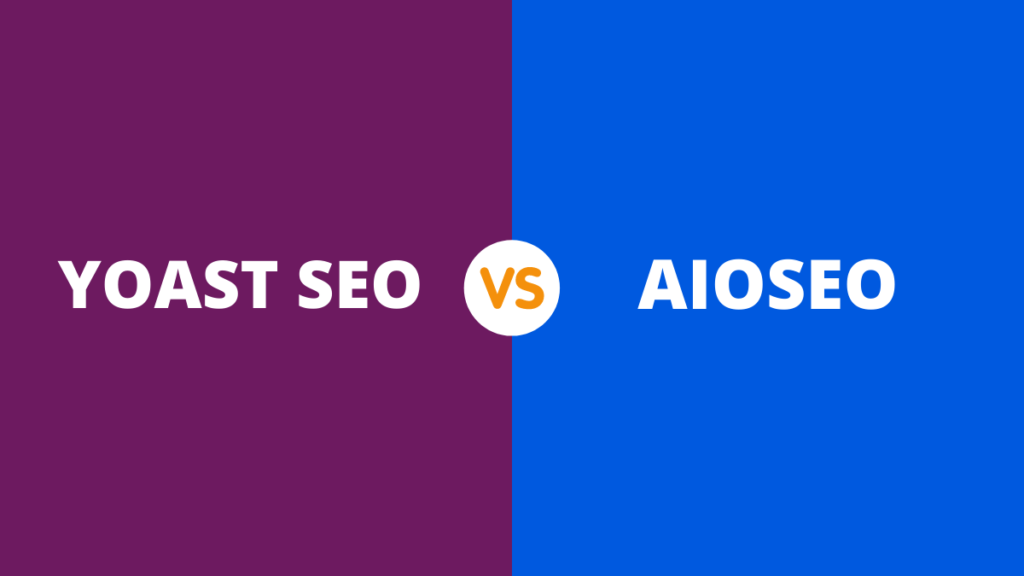 There are a massive amount of SEO tools and tactics that we use for ranking our website or content. Right? Yoast vs All in One SEO both are famous SEO due to their unique features. Previously keyword stuffing was widespread for indexing the content, but these tools help make the content quality. 
The SEO tools help to boost website traffic and increase revenue. It helps to grow your website and optimize it through meta description, permalinks, keywords, and many more. 
Now, if you are also confused about which SEO tool among Yoast vs All in One SEO is better, this guide is for you. Here we will share some facts that help you choose the best tool according to your requirements. 
So let's dive into it.
Why is it essential to use WordPress SEO plugins?
WordPress is one of the famous CMS for building reliable websites. The website makers use WordPress for making high-authority websites. However, the WordPress SEO plugins help to boost the permalinks and other essential SEO techniques for better traffic and search engine rankings.
The WordPress SEO plugins guide the users to follow organic SEO efforts and techniques. Therefore if you also want better indexing in Google search engines, you must have the essential SEO plugins. It helps to make the SEO optimized theme and other on-page SEO techniques.
Every website builder wants better control of content and its appearance on the search engine. It is essential for maintaining website traffic. Moreover, WordPress SEO plugins also help to produce well-optimized content that has the potential of getting organic traffic on Google. The SEO plugins can take over 20 percent of SEO techniques and give an edge to outrank competitors.
Yoast vs All in One SEO : Comparison 
All in One SEO is the oldest WordPress SEO tool than Yoast SEO. Remember that SEO includes complex strategies, and we need to understand them to get better search engine rankings.
All in One SEO
All in One SEO has the standard settings for on-page SEO. You may find it daunting while using it for the first time. Plugin has a different menu and interface than the other SEO plugins. It has two separate operations sections, including home page settings, title settings, display settings, and others for better SEO optimizations. It has excellent plugins that work automatically capitalize the titles and provide a better view. 
Yoast SEO plugin
Yoast SEO plugin is one of the famous WordPress plugins many users use to boost their search engine rankings. It includes an easy-to-use interface for a better ranking of content and display. If you are a beginner, use the Yoast SEO plugin that helps to boost your SEO tactics with a better display. Moreover, it also helps to check the content and optimize it according to your targeted keyword.
Yoast SEO Vs. All in One SEO: Installation and Configuration
Yoast SEO and All in One SEO are easy to install and configure like many other plugins. Once you install the Yoast SEO plugin, it is mandatory. The Yoast SEO plugin has the general page of configuration through the Dashboard tab. It enabled the beginners to configure the settings quickly and not face many complications.
The Yoast SEO plugin is powerful as it has plenty of options that help configure the settings. All the sections in Yoast SEO settings have different page divisions, including the relevant tabs. Therefore you can select the page and set it according to your WordPress platform. You can quickly find the specific options according to your requirements and optimize the content for better Search engine rankings.
All in One SEO WordPress plugin is also easy to install and configure. It will automatically activate at your WordPress and make its settings easy. The setup wizard settings are more minor than Yoast SEO. Once you finish the wizard, you will land at the setting pages. It also includes distinct pages for the general settings of each section. Moreover, you can make the easy or quick novices with additional help.
So both the plugins have plenty of options that help in easy and quick configurations. All in One SEO has better configuration setting options than Yoast SEO and its setup wizard. 
All in One SEO vs Yoast SEO: Daily SEO Maintenances
Yoast SEO and All in One SEO features have different maintenance features. These features help optimize the website's single-page post and many other contents.
In Yoast SEO, you can find the optimization features under the post editor. It includes the meta box, snippet view, keywords, and content analysis box. Moreover, Yoast SEO will automatically analyze the post and include its meta description and titles. It helps in better customization of content that has the potential to get better search engine optimization. Remember that you need to enter the focus keyword in Yoast SEO, and then it will analyze the content according to it.
On the other side, the All in One SEO also helps deliver the best SEO score for optimizing the content. You can manually optimize the content page according to your SEO techniques. It has a wide SEO content analysis panel and shows the SEO score in the top right corner. It will also display the score according to the focus keyword and content type. You can add the focus keyword, title, and meta description below the post editor.
All in One SEO vs Yoast SEO: Indexing and Sitemaps
The WordPress SEO plugins help in easy indexing and sitemaps. The Yoast SEO plugin helps create XML sitemaps according to your post map. Moreover, the All in One SEO also creates the XML sitemap automatically for your site and enables you to manage it quickly.
Yoast SEO vs All in One SEO – Which one is better?
All in One SEO and Yoast SEO have comparable features. Both have different features that help in better search engine rankings. You can choose the WordPress plugin according to your website or content requirements.